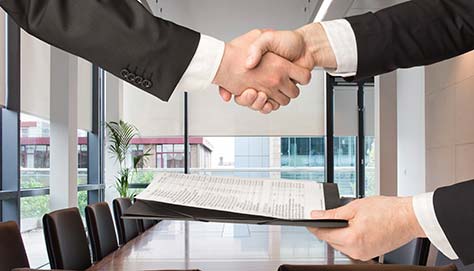 Just like a bride and groom entering into a marriage, many business partners, whether members of an LLC, shareholders of a corporation, or general partners of an actual partnership, enter into their new business venture with a high degree of optimism, believing that the partnership will be successful and that their partners will always be faithful to them and the partnership.  As a Ft Lauderdale business lawyer focusing on business disputes, I know all too well that most partnerships eventually fail and that, while the partnership may last, many partners fail to deal with each other fairly.  Indeed, there are often disputes over what should happen with the partnership assets, including its customers or clients, and how the company will operate prospectively, or if it will continue to operate at all.  Is there a way to eliminate or reduce the likelihood of such a dispute?
The short answer is "to some extent."  Of course, partners or joint adventurers can, in advance of the start of the business venture, seek to gauge whether their business partners have integrity or are likely to fulfill their fiduciary duties of care and loyalty to both partnership and the partners of the partnership.  Just as a person would be unwise to elope with someone whom he or she just met, business people do well to do business only with people they know and trust.  Apart from that, one of the best ways to protect oneself from a messy "business divorce" or fight over partnership assets is to, at the outset of the business relationship, enter into a written agreement governing the relationship between the business partners—just as an engaged couple might enter into a prenuptial agreement.
Different business entities are subject to different kinds of business agreements.  In a general partnership or limited partnership, the partners may enter into a partnership agreement for the conduct and dissolution of the partnership.  Such an agreement specifies each partner's contributions to the partnership (capital or otherwise) and who is to receive what from the partnership in particular situations, such as when the partnership is profitable or becomes indebted or insolvent.  Such an agreement also specifies how the partnership will collectively make decisions through the votes of its partners.
True partnerships are not the only types of business ventures that can benefit from a written agreement between its members. Other forms of business entities are subject to similar agreements.  Members of limited liability companies, for example, may enter into operating agreements for the management, operation, or dissolution of the limited liability company.  Similarly, corporations may enact bylaws to which the corporations' operations are subject, and its shareholders may enter into agreements relating to their ownership interests in the corporation and rights with respect to their share of the corporation's profits and losses.
But resolving to memorialize a business relationship in a written agreement is only a first step. The agreement must accurately capture the parties' intentions with regard to the business venture and must account for possibilities that the business partners are unlikely to initially consider.  While form agreements are readily available on the internet, it is unwise for business people to simply use these agreements without consultation with counsel.   Using an agreement that says the wrong things is often worse than using no written agreement at all.  A competent attorney can assist businesses with addressing important issues such as (among other things) the rights and powers of managers, how loans and capital contributions from partners will be treated, who may open bank accounts on behalf of the business and on what terms, when distributions will be made, when additional partners may be added, whether ownership in the business may be transferred, and circumstances warranting the termination of the business and dissolution of the business entity.
If you are seeking to avoid a business dispute or are currently involved in a business dispute, please call a Fort Lauderdale commercial litigation lawyer at (954) 440-0901 to schedule a consultation.  The Carlin Law Firm, P LLC regularly provides legal advice to all kinds of business entities and regularly assist clients with litigating business disputes in Florida state and federal courts.